Empty house measures / Sale by private contract / Inheritance
Abandoned empty house measures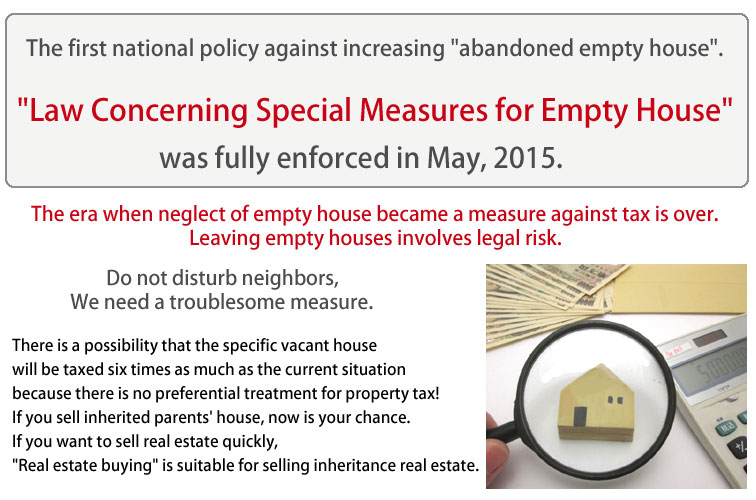 We will make a sale / purchase assessment of real estate.
As you inherit real estate, you may sell it.
You would like to sell real estate which you currently own and buy a new real estate.
You want to sell real estate in a hurry and cash it.
You want to sell part of the land.
You have real estate that can not sell for a long time.
In such a case please consult Soto, where the official real estate consulting master is enrolled.
What is "Certified Real Estate Consulting Master"
Holds one of the qualifications "Registered Real Eestate Broker", "Real Estate Appraiser", "First Class Architect".
The skills test carried out by Public Interest Incorporated Foundation "The Real Estate Transaction Promotion Center" under the registration of the Minister of Land, Infrastructure and Transport was cleared.
At least 5 years of practical experience.
Provide broad knowledge in practice, law, tax system, architecture, economy, finance.
Periodic renewal is imposed on qualifications, and knowledge is updated day by day.
Benefits of purchasing real estate
Short time to sell
Easy to set up funds plan
Can be sold without being known to others
Exempt from liability for warranty of building. Land is excluded.
Brokerage fee is not charged
Real estate purchase recommended for these people.
Those who want to cash in immediately.
Those who can not have time to negotiate with a real estate agent.
Those who are already mediating to other real estate agents but are not ready for sale.
Those who want to finish real estate sale without being notified by anyone.
The cause of the abandoned empty house problem is the majority due to inheritance?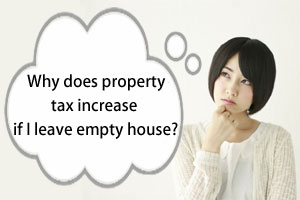 In recent years, real estate property that becomes abandoned empty house due to inheritance is becoming a big problem.
In May 2015, the Special Measures Law on Promotion of Empty House Measures came into force in order to eliminate abandoned empty houses that are full of nationwide.
For empty houses judged to be "particularly high risk", we will prioritize identification of owners and seek repair and proper management of dangerous spots.
As the declining birthrate and the aging population are progressing, abandoned empty houses are a big social problem.
Why will it become an empty house from inheritance?
About inheritance and empty houses, without worry, without trouble to others, no annoyance to others , inheritance countermeasures are necessary.
Is there any problem with such empty houses / vacant lands?
I have a vacant house, but how much would it be if I could sell it?

I lost the building confirmation letter, the officially registered seal, but is it okay?
There are old houses and buildings but there is no money to remove them.
I decided the boundary with my neighbor with my mouth but it seems to be getting fuzzy at the time of sale.
Parents who lived in old house moved into a nursing home, there is no prospect of returning.
Because I will live with my parents, so parent's house will be needed no longer.
I found a final abode in a convenient place, so the house I had lived up became unnecessary.
Because I moved to an condominium, the house I had lived up became unnecessary.
I would like to know if it is better to sell while parents are alive.
Cleaning up the belongings of the dead will be troublesome.
I do not have time so I want to sell it in a hurry.
It's a long way but I would like a local real estate agent to help me.
Currently owner and other relatives living in other prefecture.
Those who can not return to parent house in their distant places, we will accept consultations by telephone or e-mail.
Also, professional consultation such as real estate sale ・ inheritance tax etc. by inheritance problem said to go over majority of cause becoming "vacant house" is FREE. We support smooth inheritance in collaboration with various experts such as tax accountants, judicial scrivener and lawyers.
We will respond with privacy strict observance, please do not hesitate to consult with assessment.
Everyone, please feel free to contact us, please visit us.
Sale by private contract
Many people are worried about those who are worried about repaying future mortgage loans, are currently being delinquent, do not know who to talk to, and so on.
We will support you so that you can proceed with peace of mind, such as consultation and procedures on private contract sale.
Consultation fee is free.
Feel free to contact us.
Inheritance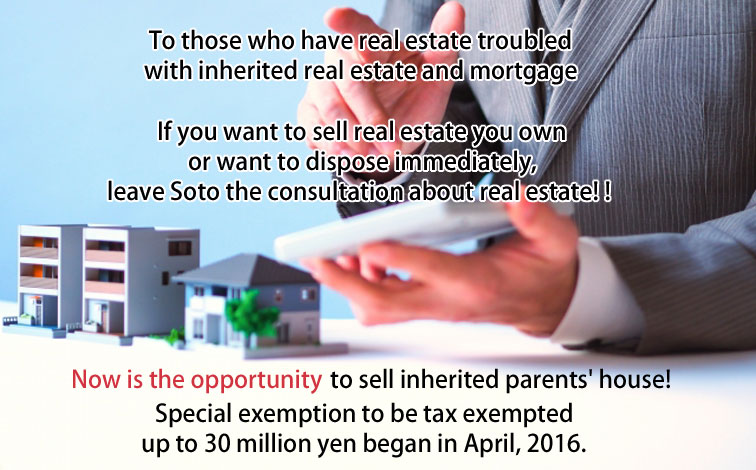 If you or your relatives are in trouble to inherit your parent's inheritance and real estate, or if you do not plan to live now or in the future, you do not know how to use it.
If you have any doubts please contact us.
We will advise the effective utilization of your parents' stuff filled with memories carefully in the customer's position.
Would it be a loss if you left inherited real estate left?
Real estate owned by individuals such as land, detached houses, condominiums, etc. are not just those purchased for "my homes" and investment purposes.
Occasionally it is possessed by inheritance from a parent to a child, such as when an emergency happens to a family member.
Tax will be charged if you inherit real estate owned by parent due to inheritance.
Moreover, unless it is real estate where you live, it will be difficult to manage every day.
It is not a good idea to leave it alone because it is difficult to manage.
Because, during that time, we have to continue paying taxes on property taxes, and in the case of a detached house, the house where no one lives becomes aged.
Even if it is a condominium, its value will go down. So, as a possible countermeasure, you will sell inherited real estate.
However, sale of inheritance real estate may be troublesome, such as the necessity of a name change, trouble if there are two or more heirs, and so on.
Inheritance Real Estate Sale requires inheritance registration!?
Disadvantages and risks caused by not registering inheritance
It will be impossible to sell it freely.
Other heirs will register and sell only their own shares (statutory inheritance) without permission.
Even if an unexpected accident happens, you can not receive real estate remedies.
There is a possibility that heirs will increase in the future.
(When one of the heirs dies, the family such as their spouse and son will take over the right of inheritance)
If you inherit real estate, you must change the name of the original owner (decedent) to the name of the heir.
This is inheritance registration. Actually, this inheritance registry has no deadline rule that you have to proceed for indefinitely.
Therefore, after the deceased's death, sometimes the name of the land or the house is left undated.
However, unless you change the name by inheritance registration, various disadvantages will arise.
One thing that can not be sold is that one. For example, if the parent owns the land, even after the death of the parent, you can not sell the land at your own discretion unless you register the inheritance, you can not borrow money as collateral.
Other disadvantages arise from not registering inheritance like this.
If you decide to inherit real estate, let 's make inheritance registrations as soon as possible.
Even if the owner or your relatives live in another prefecture, you can not return to your home in the distance and you can not consult, we will accept consultation by phone or email first.
In addition, professional consultation such as Real Estate Sale and inheritance tax by "Abandoned empty house problem" which is said to exceed the majority of inheritance is FREE.
We support smooth inheritance in collaboration with various experts such as tax accountants, judicial scrivener and lawyers.
We will respond with privacy strict observance, please do not hesitate to consult with assessment.
Everyone, please feel free to contact us, please visit us.